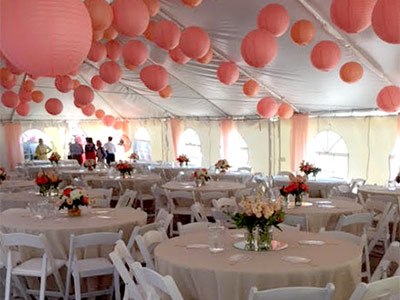 Planning a party is hard work, there's no doubt about it. Even small get-togethers take a lot of work to plan, which can take time and enjoyment out of the process for you, the party planners. If you're faced with planning an event and are uncertain about your ability to bring it to life in the way you want everyone to enjoy it, consult with Above All Party Rentals today!
Our event planners in New Jersey have years of experience in helping people establish events of all types and sizes. Moreover, we have the products on hand that you'll need to take your event planning up a notch. From basic birthdays to major block parties, corporate events to family reunions, we're here to help you plan the best party possible.
Tent FAQ
One of the biggest concerns people have when planning an outdoor party concerns tent rentals. Renting a tent isn't something you do every day, so it's important to make sure you're asking yourself several important questions before selecting the right tent.
How much space do you have?
Are there any overhead or underground utilities or obstacles?
What type of event is it?
If tables and chairs are required, would a package be more cost effective?
Do you require shelter from rain or sun to ensure a successful event?
What type of event are you planning?
Do you wish to attract attention to your event to generate sales or awareness?
If you're not sure about the answers to these questions or need more help in making a decision regarding tents, trust our party planners in New Jersey to assist you! We have tents in a wide range of styles and sizes, to ensure you're getting one that's perfect for your needs.
Rentals & event planning made easy
In choosing Above All Party Rentals to help you plan your event, you're also gaining access to a tremendous inventory of party supplies and fixtures that can be used to accentuate the festivities! From dunk tanks to concessions, bars to lavatories and everything in between, working with us means covering all of your bases.
When you finally decide what you need to host a party, our experts can advise you on which package or bundle might best serve your budget. We aim to give you the full party experience, without blowing your budget!
For more information about our event planning services or to consult with our event planners in Hillsborough Township, Lebanon, and Bound Brook, NJ, please contact us today at 908-526-7368.