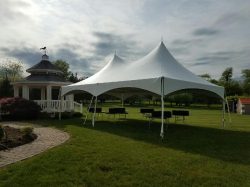 At Above All Party Rentals, we're known for providing the best of the best when it comes to tent rentals. The secret to our success is maintaining a great inventory and taking care of our products, so every rental feels brand-new. This includes thorough tent washing in New Jersey.
We've been in business for long enough to know exactly how to wash a tent. This has led us to not only keep our own tents in pristine condition but also offer tent washing services to local area customers who may require washing for their own tents. We're able to wash tents of all sizes, regardless of material.
Why Wash a Tent?
Tents are subjected to all kinds of wear when they're set up. Everything from dirt and dust, to rain and snow, to anything else outdoors that comes into contact with your tent. And, though most tents are made of strong, durable material, they do get dirty.
Washing a tent restores its clean appearance and appeal. Especially for light-colored tents (white, light gray), a good cleaning can increase brightness and reinvigorate the color. Washing a tent also keeps the material in good condition, to prevent premature wear. Tents aren't cheap, so it's best to maintain the one you have!
Professional Tent Washing
Washing a tent isn't as simple as hosing it down. In fact, if you clean a tent the wrong way, you might end up doing more harm to it! The smart thing to do is leave tent cleaning to a professional.
Above All Party Rentals takes a thorough, careful approach to tent washing. This includes identifying the material so we can treat it properly. Then, we make sure every square inch of the tent is thoroughly washed to remove debris, embedded dirt and dust, and even stains. We'll get it as close to new-looking as we can!
Let Us Wash Your Tent
If you've got a tent that has never been washed or one that's due for a good cleaning, contact Above All Party Rentals. We'll gladly provide pricing estimates on tent washing in Hillsborough Township, Lebanon, or Bound Brook, NJ to help you properly care for your investment. Contact us today at 908-526-7368.