December 12, 2017 8:32 pm
Leave your thoughts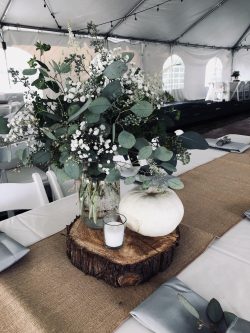 The company holiday party is a big deal! It gives employees a chance to relax and unwind with coworkers and peers, while also enjoying the company of their family. There's great food, good laughs and plenty of warmth. That is, if your company has pulled out all of the stops in making sure the event is properly planned and accommodated.
At Above All Party Rentals, we know the difference between a good holiday party and a great one comes down to having the right party rentals in New Jersey. It's about more than just having chairs and tables for people to congregate at—it's about getting the necessities and the extras together, so people can really enjoy themselves.
Chairs and Tables
These should be the first items on your list of party rentals. Get an idea of how many people and guests will be attending your company party. Then, divide that by the number of people able to be seated at each table. This will give you the number of tables you should rent, along with a total number of chairs. It's also a good idea to slightly overestimate, to account for any stragglers.
Linens and Catering Equipment
Food is central to any holiday party, so it's best to make this the second item on your planning list. Having food is one thing—having the right catering equipment and linens is another. Rent enough linens to cover your tables and be sure to get all of the necessary serving and dishware to support your food plans.
Music and Dancing
What's a holiday party without bad karaoke and coworkers busting a move out on the dance floor? Be sure to rent a solid sound system (karaoke included), along with speakers and lights. And, of course, you're going to want to rent a dance floor that's big enough to accommodate all of the fan favorite dances!
Amenities and Accessories
There's no limit to the number of party rentals in New Jersey. Depending on the location of your party and the crowd attending it, you might find a need for one or more additional accessories—from party concessions to bounce houses and beyond. Also, be sure to consider the theme of your event. Is it merely a holiday party, or is it something more, like casino night or a gala event? This can dictate what types of accommodations people expect.
Finally, make sure you're fully equipped to handle the needs of your guests. Restroom accommodations, trash cans and more absolutely need to be considered—especially as your party scales up in size.
Get the Party Started!
The company office party is a chance for you to show your employees a good time. Make sure you're giving them the best end-of-the-year festivities possible! Go through your plans and ask yourself, "What rentals could take this event to the next level?" Then, talk to one of the reps at Above All Party Rentals to reserve the rentals that will take your party up a notch.
Categorised in: Party Rentals
This post was written by Writer