October 6, 2023 7:07 pm
Leave your thoughts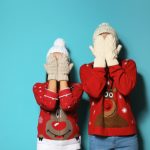 The holiday season is upon us, and that means it's time to start planning for one of the most exciting events of the year – the holiday party! Choosing the perfect theme can set the tone for the entire night and make it an unforgettable experience for all your guests. In this blog post, we will explore different holiday party themes and offer suggestions on how to execute them effectively.
1. Winter Wonderland
Transform your venue into a magical winter wonderland where guests can immerse themselves in the beauty of the season. Consider using white and silver decorations, such as snowflakes, icicles, and sparkling lights, to create a fairytale-like atmosphere. Add some faux snow on tabletops or create a snowflake backdrop for memorable photo opportunities. Serve winter-themed cocktails, such as peppermint martinis or white chocolate snowflake martinis, to add an extra touch of elegance.
2. Ugly Sweater
Embrace the tacky and fun with an ugly sweater theme. Encourage your guests to find the most outrageous, over-the-top sweaters to wear to the party. Decorate the venue with garlands made of mini sweaters, oversized buttons, and colorful ornaments. Set up a DIY hot cocoa bar with various toppings like whipped cream, marshmallows, and candy canes, and provide a contest for the ugliest sweater, with a prize for the winner.
3. Classic Christmas
For those who prefer a more traditional approach, a classic Christmas theme is always a winner. Deck the halls with boughs of holly and adorn the venue with red and green decorations. Set up a beautiful Christmas tree as the centerpiece and place wrapped presents underneath it to create a festive atmosphere. Serve traditional holiday dishes like roasted turkey, honey-glazed ham, and gingerbread cookies. Don't forget to play classic Christmas tunes to keep everyone in the holiday spirit.
4. Holiday Movie Marathon
Bring the magic of holiday movies to life by hosting a holiday movie marathon party. Create a cozy and comfortable setting with big pillows, bean bags, and blankets for guests to snuggle up while enjoying their favorite Christmas movies. Decorate the venue with movie posters or cardboard cutouts of famous holiday characters. Serve classic movie snacks like popcorn, nachos, and candy, and offer a variety of hot chocolates with creative flavors like peppermint, caramel, or salted caramel.
5. Masquerade Ball
If you're looking for a more elegant and glamorous affair, why not have a holiday masquerade ball? Encourage your guests to dress in their finest attire and provide masks upon arrival. Decorate the venue with rich, luxurious fabrics like velvet and satin, and incorporate gold and silver accents. Set up a mini photo booth with props and a backdrop where guests can capture their stunning looks. Serve up fancy cocktails like champagne and martinis, and don't forget to have a dazzling dance floor so guests can dance the night away.
When executing any of these themes, keep in mind a few key tips:
– Send out themed invitations to set the tone and get guests excited about the party.
– Create a playlist of holiday songs that match the theme to set the mood throughout the night.
– Consider hiring a professional photographer, or set up a DIY photo booth, to capture the memories and provide guests with fun keepsakes.
– Provide themed activities or games to keep guests engaged, such as a holiday trivia contest or a gift exchange.
– Have a designated area for guests to drop off coats and bags to keep the venue clean and clutter-free.
Conclusion
Choosing the perfect holiday party theme can make your event stand out and create a memorable experience for everyone involved. Whether you go for a winter wonderland, ugly sweater, classic Christmas, holiday movie marathon, or a masquerade ball, make sure to plan every detail with care and ensure that your venue, decorations, food, and activities align with the chosen theme. Happy party planning, and have a wonderful holiday season!
Got Questions? Let Us Help!
Since 2010, Above All Party Rentals has been providing party equipment rental services to Hillsborough Township and the surrounding area! We are a family-owned business with over 10 years of experience! Our professional staff takes pride in providing our customers with the newest, cleanest, and most attractive equipment available. Above All Party Rentals provides top-of-the-line equipment rentals for tents, tables, linens, bounce houses, lighting, tent siding, dunk tanks, concessions machines, and more! We bring the indoor outdoors and provide our customers with a beautiful and comfortable setting for any event. Contact us today to learn more about what we can do for you!
Categorised in: Holiday Party
This post was written by admin