October 20, 2023 7:07 pm
Leave your thoughts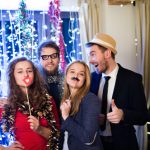 The holiday season is just around the corner, and that means it's time to start planning for festive gatherings and memorable parties! As the years go by, new trends emerge, dictating the way we celebrate during this joyous time. In this blog post, we will explore the latest trends in holiday party planning, from food and drink to decorations and themes, to help you stay ahead of the game and host an unforgettable event.
1. Food and Drink:
One major trend for holiday parties this year is incorporating healthier and more diverse food and drink options. While traditional favorites like eggnog and heavy appetizers will always have a place at holiday gatherings, hosts are increasingly offering lighter and vegetarian alternatives to cater to a wider range of dietary preferences.
Furthermore, themed food stations are gaining popularity, allowing guests to customize their plates and create their own culinary masterpiece. For instance, a DIY charcuterie station or a build-your-own hot chocolate bar can engage guests and add an interactive element to the party.
2. Decorations:
In recent years, there has been a shift towards more minimalist and eco-friendly holiday decorations. Natural elements such as pinecones, evergreen branches, and even potted plants are being incorporated into party decor, bringing an earthy and rustic vibe to the festivities.
Additionally, sustainable options like reusable or biodegradable tableware and LED lights are gaining traction as individuals become more conscious of their environmental impact. Going green doesn't mean compromising on style, as many companies now offer trendy and attractive eco-friendly party supplies.
3. Themes:
Having a themed holiday party can elevate the celebration to a whole new level. This year, we're seeing a rise in unique themes that go beyond the traditional Red and Green Christmas or Winter Wonderland. Some popular themes include:
– 1920s Gatsby Extravaganza: Step back in time to the roaring twenties with flapper dresses, jazz music, and art deco-inspired decorations. This theme is perfect for those who want to add a touch of glamour and nostalgia to their holiday soirée.
– Tropical Christmas: Swap the snowflakes for palm trees and create a tropical oasis right in your living room. Think vibrant colors, tiki cocktails, and Hawaiian shirts. This theme is excellent for those who want to break away from the traditional winter wonderland and add a fresh and fun twist to their holiday party.
– Ugly Sweater Party 2.0: Ugly sweater parties have been a hit for years, and they're here to stay. However, this time around, hosts are encouraging guests to take their outfits to the next level by incorporating funky accessories and over-the-top decorations. From light-up sweaters to outrageous headgear, the tackier, the better!
4. Entertainment:
To keep guests engaged and entertained, unique forms of entertainment are taking center stage at holiday parties. While music and dancing have always been a staple, hosts are now incorporating creative elements such as live performers, interactive games, and even DIY craft stations.
Hiring a magician or a live band can add a touch of magic and excitement to the event. Organizing a cookie decorating station or a holiday-themed art project allows guests to unleash their creativity while making lasting memories. Planning a gift exchange game, like a white elephant or a secret Santa, brings an element of surprise and laughter to the party.
Conclusion:
Holiday parties have come a long way from the typical red and green color scheme and traditional Christmas carols. With the latest trends in food and drink, decorations, themes, and entertainment, hosts have an abundance of options to create a unique and unforgettable holiday celebration. By embracing these trends, you can ensure your holiday party stands out and leaves a lasting impression on your guests. So, get ready to celebrate in style and make this holiday season one to remember!
Got Questions? Let Us Help!
Since 2010, Above All Party Rentals has been providing party equipment rental services to Hillsborough Township and the surrounding area! We are a family-owned business with over 10 years of experience! Our professional staff takes pride in providing our customers with the newest, cleanest, and most attractive equipment available. Above All Party Rentals provides top-of-the-line equipment rentals for tents, tables, linens, bounce houses, lighting, tent siding, dunk tanks, concessions machines, and more! We bring the indoor outdoors and provide our customers with a beautiful and comfortable setting for any event. Contact us today to learn more about what we can do for you!
Categorised in: Holiday Party
This post was written by admin