November 2, 2023 9:42 pm
Leave your thoughts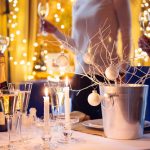 Winter is a wonderful time of year to gather with friends and family and celebrate the season. However, hosting a winter party can quickly become expensive if you're not careful. But fear not! With some creative thinking and strategic planning, you can host a memorable winter gathering without breaking the bank. In this blog post, we will share some budget-friendly party planning tips to help you stay within your budget while still creating a warm and inviting atmosphere for your guests.
1. Affordable Decorations:
Decorations can be one of the costliest aspects of any party. To keep your budget in check, opt for affordable and DIY decorations. Consider using natural elements like pine cones, branches, and holly berries to create a rustic and festive ambiance. You can also repurpose items you already have, such as Mason jars or glass vases, and fill them with cranberries, pine needles, or battery-operated fairy lights for a charming and budget-friendly centerpiece.
2. DIY Projects:
Get creative and take on some do-it-yourself projects to infuse your winter party with personal touches. Create your own snowflake ornaments using popsicle sticks and glitter or make paper snowflakes to hang from the ceiling. If you're feeling particularly crafty, you can even make your own winter-themed garlands using felt or construction paper. DIY projects not only save you money but also add a unique and personalized element to your decorations.
3. Budget-Friendly Menu Options:
Food is often a significant expense when hosting a party, but you can still create a delicious menu without going over budget. Consider serving hearty and budget-friendly dishes like chili, soup, or mac and cheese. These comfort foods are not only affordable but are also perfect for winter gatherings. Opt for seasonal fruits and vegetables, which tend to be more affordable and flavorful during the winter months. And don't forget to plan ahead and take advantage of any sales or discounts when shopping for ingredients.
4. Potluck-style Gathering:
One way to significantly cut down on costs is by hosting a potluck-style gathering. Ask your guests to bring their favorite winter dish or beverage to share. Not only does this reduce the burden on you as the host, but it also offers a diverse spread of food and introduces your guests to new culinary delights. By sharing the responsibility, everyone gets to contribute and feel involved in creating a memorable experience.
5. Signature Winter Drink:
Instead of offering a full bar with various drink options, consider serving a signature winter drink. This could be something as simple as a warm mulled cider or a festive holiday punch. By focusing on one signature drink, you can save money on a range of alcohol options and still provide a special and seasonal beverage for your guests to enjoy.
6. Embrace the Outdoors:
Take advantage of the winter season by hosting your gathering outdoors. A bonfire or fire pit can provide a cozy atmosphere, and you can even invite guests to bring their own blankets and warm beverages. Roasting marshmallows for s'mores or having hot chocolate by the fire can be a fun and affordable way to enjoy the winter weather while keeping your budget intact.
7. Entertainment on a Budget:
Entertainment doesn't have to be expensive. Consider playing classic board games or organizing a small tournament for card games like poker or rummy. If you have outdoor space, set up a friendly snowball fight or build snowmen together. These activities not only bring laughter and fun but also create lasting memories without costing much at all.
8. Homemade Party Favors:
Send your guests home with a sweet and thoughtful gesture by creating homemade party favors. Bake cookies or make homemade candles and package them with a personalized note. These DIY party favors not only show your appreciation to your guests but also add a personal touch to your party without breaking the bank.
Summary
Hosting a budget-friendly winter party is about being creative, resourceful, and focusing on what truly matters – enjoying the company of loved ones. By incorporating affordable decorations, DIY projects, budget-friendly menu options, and considering alternative entertainment options, you can create a memorable and inviting atmosphere without overspending. Remember, the most important thing is to create a warm and welcoming environment where everyone can come together and celebrate the joys of the winter season.
Need To Rent Some Party Equipment? Let Us Help!
Since 2010, Above All Party Rentals has been providing party equipment rental services to Hillsborough Township and the surrounding area! We are a family-owned business with over 10 years of experience! Our professional staff takes pride in providing our customers with the newest, cleanest, and most attractive equipment available. Above All Party Rentals provides top-of-the-line equipment rentals for tents, tables, linens, bounce houses, lighting, tent siding, dunk tanks, concessions machines, and more! We bring the indoor outdoors and provide our customers with a beautiful and comfortable setting for any event. Contact us today to learn more about what we can do for you!
Categorised in: Holiday Party, Party Planners, Winter Events
This post was written by admin