November 16, 2023 9:42 pm
Leave your thoughts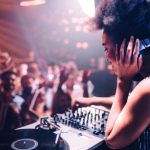 New Year's Eve is a time for celebrating, reflecting, and welcoming the coming year with joy and excitement. Hosting a memorable New Year's Eve bash requires careful planning and attention to detail, and one aspect that can truly elevate your celebration is renting the right equipment and decor items. From sound systems to special lighting and themed party props, here are the must-have party rentals that will make your New Year's Eve party one to remember.
1. High-Quality Sound System:
Music sets the mood for any celebration, and New Year's Eve is no exception. A high-quality sound system is a must-have rental that will ensure your guests are dancing the night away. Look for a sound system that can deliver crisp and clear sound throughout your venue, with options for adjusting volume and bass levels. Whether you're planning to have a live DJ or creating your own playlist, having a great sound system will keep everyone grooving until the early hours of the morning.
2. Special Lighting Effects:
Transform your party venue into an enchanting wonderland with special lighting effects. Renting lighting equipment, such as LED uplighting, strobe lights, or disco balls, can add a captivating atmosphere to your New Year's Eve bash. Consider creating a dance floor with colorful lights that sync to the beat of the music, or set up a spotlight for an impressive countdown moment. The right lighting can create a visually stunning ambiance and make your party a feast for the eyes.
3. Dance Floor and Stage:
If you have enough space in your venue, renting a dance floor and stage can take your New Year's Eve party to the next level. A dedicated area for dancing will entice guests to get on their feet and enjoy the celebration. Opt for a portable dance floor that you can customize to fit your party theme or venue layout. A stage can also be a great addition if you plan to have live performances or speeches. It provides a focal point and helps to elevate the overall energy of the event.
4. Themed Party Props and Decorations:
Inject some fun and excitement into your New Year's Eve bash with themed party props and decorations. Renting props like photo booths, giant LED letters spelling out "2023," or champagne bottle-shaped inflatables can create a festive and interactive atmosphere. Encourage guests to take memorable photos with props and provide a designated photo area. Additionally, consider renting table centerpieces, balloons, and other decor items that match your chosen theme, such as a glamorous black and gold theme or a vibrant disco theme.
5. Bar Equipment and Glassware:
A New Year's Eve party isn't complete without a well-stocked bar. Renting bar equipment such as a mobile bar counter, ice buckets, and cocktail shakers will help you create a professional and efficient bar setup. Make sure to also rent an assortment of glassware, including champagne flutes, wine glasses, and highball glasses, to serve your guests in style. Having the right bar equipment and glassware will elevate the overall experience and ensure everyone can toast to the new year with their favorite beverages.
6. Comfortable Seating and Lounge Areas:
With the festivities lasting well into the night, it's essential to provide comfortable seating and lounge areas for your guests to relax and socialize. Renting a variety of seating options, such as sofas, ottomans, and cocktail tables, allows guests to find their own cozy corners. Consider creating separate lounge areas with comfortable seating arrangements where guests can take a break from dancing and enjoy conversations with friends and family.
Summary
Hosting a memorable New Year's Eve bash requires the right equipment and decor to create an unforgettable experience. From a high-quality sound system and special lighting effects to themed party props and comfortable seating, these must-have party rentals will elevate your celebration to new heights. By paying attention to these essential elements, you can ensure that your guests have a fantastic time ringing in the new year and create memories that will last a lifetime.
Need To Rent Some Party Equipment? Let Us Help!
Since 2010, Above All Party Rentals has been providing party equipment rental services to Hillsborough Township and the surrounding area! We are a family-owned business with over 10 years of experience! Our professional staff takes pride in providing our customers with the newest, cleanest, and most attractive equipment available. Above All Party Rentals provides top-of-the-line equipment rentals for tents, tables, linens, bounce houses, lighting, tent siding, dunk tanks, concessions machines, and more! We bring the indoor outdoors and provide our customers with a beautiful and comfortable setting for any event. Contact us today to learn more about what we can do for you!
Categorised in: Event Planning, Holiday Party, Party Rentals, Winter Events
This post was written by admin