August 31, 2023 2:15 pm
Leave your thoughts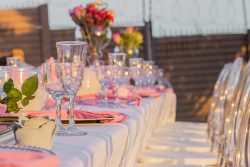 Planning a wedding requires careful attention to detail, especially when it comes to the decorations. However, buying all the necessary decor items can be expensive and impractical. That's where wedding decor rentals come in. Renting decor items can save you money while still allowing you to achieve the trendy and stylish look you desire for your special day. In this blog post, we will explore some of the trendiest wedding decor rentals available to help you create the wedding of your dreams.
1. Statement Backdrops
One of the hottest trends in wedding decor right now is the use of stunning statement backdrops. Whether you want a romantic floral wall, a rustic wooden backdrop, or an elegant drapery design, renting a backdrop can instantly transform your wedding venue and set the perfect stage for your ceremony or reception. Backdrops can also serve as a beautiful backdrop for photograph opportunities and create a cohesive look for your wedding theme.
2. Unique Seating Options
Gone are the days of traditional chair setups. Couples are now opting for more unique seating options to add a touch of personality and style to their wedding. From vintage couches and love seats to boho-inspired floor pillows and ottomans, there are endless possibilities when it comes to seating rentals. These unique seating options not only provide comfort for your guests but also become a conversation starter and focal point in your wedding decor.
3. Tablescapes and Centerpieces
Creating an eye-catching tablescape is essential in setting the mood and ambiance of your wedding reception. Rental companies offer a wide variety of table linens, chargers, dinnerware, glassware, and centerpiece options to suit any theme or style. From modern and minimalist to extravagant and glamorous, you can find everything you need to make your tables a visual delight for your guests. Rental centerpieces, such as candelabras, lanterns, or floral arrangements, can complete the look and add a touch of elegance or whimsy to your tables.
4. Light Up Your Wedding
Lighting can create a magical and romantic atmosphere at your wedding venue. Renting lighting equipment, such as string lights, chandeliers, or uplighting, can instantly transform any space into a dreamy and enchanting setting. Twinkling fairy lights can be wrapped around trees or draped along ceilings and walls to create a cozy and intimate ambiance. Chandeliers can be hung above the dance floor or dinner tables to add a touch of sophistication and glamour.
5. Unique Signage and Decorative Accents
Renting unique signage and decorative accents can add a personalized and trendy touch to your wedding decor. Vintage-style marquee signs can display your initials or a romantic quote, while rustic wooden signs can guide your guests to different areas of your venue. Other decorative accents, such as vases, candles, or lanterns, can be rented to create a cohesive look and add a touch of charm to your wedding decor.
6. Lounge Areas
Creating lounge areas at your wedding venue allows your guests to have a comfortable and inviting space to relax and socialize. Renting chic lounge furniture, such as sofas, armchairs, coffee tables, and rugs, can transform an ordinary space into a cozy oasis. Lounge areas not only enhance the aesthetic appeal of your wedding but also provide a cozy retreat for your guests to mingle and unwind.
Summary
Wedding decor rentals offer a practical and cost-effective solution for creating a trendy and stylish wedding. Statement backdrops, unique seating options, visually stunning tablescapes, beautiful lighting, unique signage and decor accents, and comfortable lounge areas are all available for rent to make your dream wedding come to life. By renting these trendy decor items, you can achieve the wedding aesthetic you desire without breaking the bank. So, consider wedding decor rentals for your special day and create a memorable and unforgettable wedding experience for you and your guests.
Got Questions? Let Us Help!
Since 2010, Above All Party Rentals has been providing party equipment rental services to Hillsborough Township and the surrounding area! We are a family-owned business with over 10 years of experience! Our professional staff takes pride in providing our customers with the newest, cleanest, and most attractive equipment available. Above All Party Rentals provides top-of-the-line equipment rentals for tents, tables, linens, bounce houses, lighting, tent siding, dunk tanks, concessions machines, and more! We bring the indoor outdoors and provide our customers with a beautiful and comfortable setting for any event. Contact us today to learn more about what we can do for you!
Categorised in: Weddings
This post was written by admin