September 14, 2023 2:18 pm
Leave your thoughts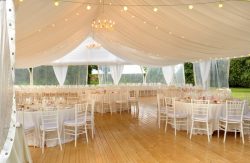 When it comes to planning a wedding, the venue plays a crucial role in setting the ambiance and creating a memorable experience for guests. Wedding tents have become increasingly popular for outdoor weddings, providing a versatile and customizable space. In this blog post, we will explore elegant wedding tent decor ideas that will transform your outdoor celebration into a magical and enchanting event.
1. Chandeliers and Lighting:
To create an elegant atmosphere inside the wedding tent, consider adding chandeliers or other stunning lighting fixtures. Hanging chandeliers from the ceiling adds a touch of sophistication and brings a warm glow to the space. You can choose chandeliers in various styles, from classic crystal designs to modern and sleek options.
Additionally, consider incorporating ambient lighting such as string lights or fairy lights to create a romantic and whimsical ambiance. These can be draped along the tent poles or strung along the ceiling to add a magical touch to the decor.
2. Drapes and Fabrics:
Using flowing drapes and fabrics is an excellent way to add drama and elegance to your wedding tent decor. Opt for sheer or lightweight fabrics that can be draped along the ceiling or walls to create a soft and ethereal atmosphere. You can choose fabrics in neutral tones such as ivory or blush for a romantic feel or go for bold and vibrant colors to make a statement.
To further enhance the elegance, consider adding curtains or drapes to separate different areas within the tent, such as a lounge area or a designated dance floor. This not only adds visual interest but also creates a sense of intimacy and exclusivity.
3. Floral Accents:
No wedding decor is complete without beautiful floral arrangements. Use fresh flowers to add a pop of color and natural beauty to your wedding tent. Create stunning centerpieces for tables and scatter flower petals along the aisles or the entrance of the tent.
Consider incorporating flowers that match your wedding theme and color palette. You can also add greenery such as eucalyptus or ivy to give a lush and organic feel to the space. Work with a professional florist to create arrangements that complement the overall decor and add an elegant touch to your wedding day.
4. Luxurious Seating:
Give your guests a comfortable and luxurious experience by opting for stylish seating arrangements. Choose elegant and plush chairs and sofas that match your wedding theme. You can also add decorative pillows and throws to create a cozy and inviting atmosphere.
Consider incorporating different seating areas within the tent, such as lounge areas with comfortable sofas and coffee tables. This allows guests to relax and mingle while adding an extra touch of elegance to the overall decor.
5. Statement Entrance:
Make a grand entrance by creating a statement entrance to your wedding tent. Set up a stunning arch or canopy at the entrance adorned with flowers, greenery, or fabric drapes. This creates a beautiful focal point and sets the tone for the rest of the wedding decor.
You can also add decorative elements such as lanterns, candles, or even a red carpet to make the entrance feel more glamorous. This not only adds an elegant touch but also creates anticipation and excitement for your guests as they enter the wedding tent.
Conclusion:
Elegant wedding tent decor can transform any outdoor space into a magical and enchanting venue for your special day. By incorporating elements such as chandeliers, drapes, fresh flowers, luxurious seating, and a statement entrance, you can create an ambiance that exudes sophistication and style.
Work with a professional rental company to bring your vision to life and create a memorable experience for you and your guests. With careful attention to detail and a cohesive theme, your wedding tent decor will leave a lasting impression and make your special day truly extraordinary.
Got Questions? Let Us Help!
Since 2010, Above All Party Rentals has been providing party equipment rental services to Hillsborough Township and the surrounding area! We are a family-owned business with over 10 years of experience! Our professional staff takes pride in providing our customers with the newest, cleanest, and most attractive equipment available. Above All Party Rentals provides top-of-the-line equipment rentals for tents, tables, linens, bounce houses, lighting, tent siding, dunk tanks, concessions machines, and more! We bring the indoor outdoors and provide our customers with a beautiful and comfortable setting for any event. Contact us today to learn more about what we can do for you!
Categorised in: Weddings
This post was written by admin